---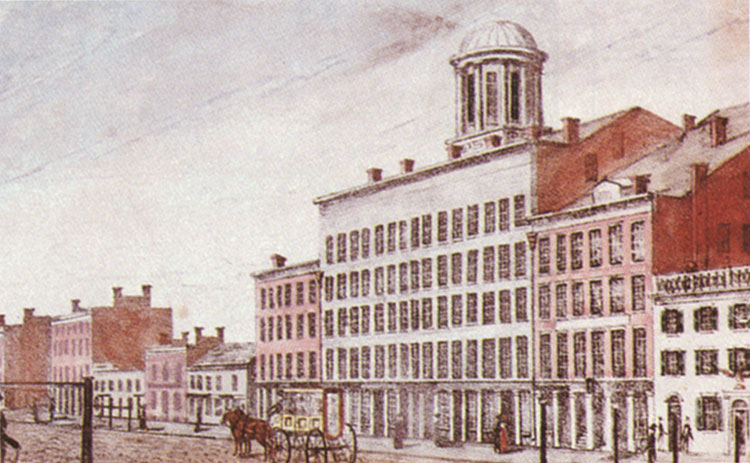 The American Hotel, 1840 Image source: TBHM

1858 Balloon Ascent from future location of the Brisbane Building. Image source: Buffalo News
Edward Michael was born in Buffalo on September 3,1850 to John & Clara Michael, who moved to Buffalo with money to invest in business in the growing city of 42,161. They found it in the American Hotel on Main Street (above). Living on Pearl Street behind the hotel, the Michaels built an overhead walkway between their house and the hotel, taking their meals there.
He retained an excellent memory of his decades in Buffalo, particularly two incidents from his childhood. The first was of July 20, 1858: "I remember seeing a balloon ascending ...on the site of the Brisbane building - right across from my home.There was a big lot there and circuses coming to town used to put their tents on that spot."
He remembered the first streetcar in 1860 and the omnibus before that. But the most celebrated anecdote of his childhood was when President-elect Abraham Lincoln stopped in Buffalo on his way to his inauguration in 1861. Lincoln and his wife, William Wallace (age 11) and Thomas Tad (age 7), stayed at the American Hotel. Michael recounted the event of his eleven year-old self: "The two boys and I were playing leapfrog in a room of the hotel. when President Lincoln came in and joined in the game. He was a very friendly man. He didn't act like a president. As we played, he grabbed hold of my arms."
The American Hotel burned in 1865, but the land on which it sat belonged to the Edward family until the end of Edward Michael's life in 1951. On that land, the A.M. & A's store was built. (In 2013, the site is covered by part of Main Place Mall.)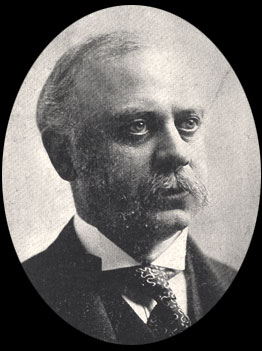 Edward Michael, 1900 (age 40)
Image source: Men of Buffalo
Edward Michael attended Buffalo public schools and the old Central High School, then had private tutoring for a time. After that he read law with Talcott & Clark in the city for three and a half years instead of attending college. In 1871 he was admitted to the bar along with Wilson S. Bissell and Arthur Hickman, both of whom would go on to achieve respected public reputations.
Michael actively practiced law for about twenty-five years. But, after his father died in 1883, son Edward took over management of his father's estate which included numerous real estate holdings on Main Street and downtown Buffalo. It would prove a full-time job by 1894.
He enjoyed traveling all of his life, and in 1873, he went west,meeting General George Armstrong Custer and witnessing Sioux attacks on Fort Lincoln, Nebraska. He also loved collecting books and furnishings.
He married Celia Blake in 1885 and was father to three daughters, none of whom married. In 1896, he moved his office in to the new Brisbane Building, built on the site of the destroyed Arcade and the location of the balloon acsension he witnessed as a seven year-old. He would retain offices there until his death forty-five years later. On one wall of his office was a map of Buffalo in 1829.
Newly completed Michael Home, 741 Delaware (viewed from Summer Street).
Image source:
Buffalo's Delaware Avenue
In 1892-93, he had Boston architect H. P. Rinn design a thirty-three room stone mansion at 741 Delaware Avenue, the most exclusive street at the time in Buffalo. Its entrance faced Summer Street. Here he entertained Mark Twain, Grover Cleveland, and George Urban (Sr.), among others.
Beginning in 1885, the family enjoyed summers in Derby at their lakeshore home. The first wood-frame house there burned and would be replaced by a more grand home.
The family was active in Buffalo philanthropic activities, particularly the Buffalo General Hospital, where Mrs. Michael was on the board; later, their daughter Jeanette also served in this capacity. He endowed the 18-room Michael Wing of the hospital.
In 1934, Michael's wife, Celia, died. From his subsequent actions, it appears that the Delaware Avenue mansion lost its appeal. Michael and his three single daughters, Clara, Edwine, and Jeanette, moved permanently to a new 40-room home in Derby they called "Hickoryhurst."
A later view of the Michael Home, minus the fence along the street. Image source: TBHM
The mansion in Buffalo was leased in 1937 to Mrs. Florence Radder, who opened a restaurant called "Kipling's If." That year, a major auction house in New York City sold much of his 15,000 volume library which included early printed books, autographs, and American and European literature, much of which had been accumulated during extensive travels abroad. Part of this library he had donated to the Lockwood Library at U.B. and the Grosvenor Library. Also auctioned that year in New York were home furnishings which included "Fine Furniture & Decorations, Tapestries, Oriental Rugs, Arms and Armor" from the mansion.
By his own admission, Edward Michael never retired. Buffalo Realty, the firm of which he was president, was a major dealer in Buffalo real estate over the decades, including grain elevators, department stores, industrial plants. He was part of the group that purchased the Tifft House and erected a 9-story building on that site for the William Hengerer Company. His company also purchased the old Buffalo Savings Bank at Washington and Broadway, constructing the Lafayette Building (now demolished). The company had considerable business on Long Island.
HIs schedule, followed when not traveling, was the same. Mondays through Fridays, he was picked up at his Derby mansion, driven to his office in the Brisbane Building, arriving at 10:30. At 1 p.m., he went to the Buffalo Club for lunch, returning to the office at 2 p.m. At 4 p.m., he rode home. He became the club's oldest member, the state's longest-practicing lawyer and its oldest lawyer.
Although he disliked crowds and evening social events, Edward enjoyed fishing and yachting on his 115-foot steam yacht. And he enjoyed playing cards; partners at the table in the early days included Grover Cleveland.
When he turned 100 in 1950, the newspapers noted that he had all his faculties and a zest for life. "I've enjoyed every minute of it," he said. "I've worked hard, but I've enjoyed doing it."
Six months later, he had a heart attack; he died in his Derby home on October 24, 1951. The population of Buffalo had grown during his lifetime from 42,161 to 580,192.
Last Days of the former Michael Home, January, 1956. Image source: BECPL
Edward Michael sold the mansion in 1946 to Mr. & Mrs. Joseph Savaree who opened the Stonecroft restaurant. They also rented rooms. Mrs. Savaree recalled, "When we operated Stonecroft, we sometimes served as many as 2,000 meals in one day...I can remember times when 12 and 13 receptions would be going on at one time in different rooms of the old house. Some of them would start with wedding breakfasts and continue all day through luncheon, dinner and midnight supper."
The interior had been little changed since the Edwards' residence. The front doors were heavy glass with wrought iron, the large foyer featured a circular staircase. Each room had a fireplace of marble or oak trim. Upstairs, the dressing rooms were so large that they were converted into bedrooms when rooms were rented. The third floor also contained bedrooms and the fourth floor featured one large room with a skylight.
The Stonecroft closed in 1954 and the property was purchased by Nelson Barrett. He sold it to the Exchange Mutual Insurance Company, which demolished the mansion in 1956 in order to construct a $200,000 office building on the site. That company sold the building in 1992 to Selective Insurance. Uniland purchased the building in 1997 for $920,000 and leased to the Better Business Bureau and then to Maxim Healthcare.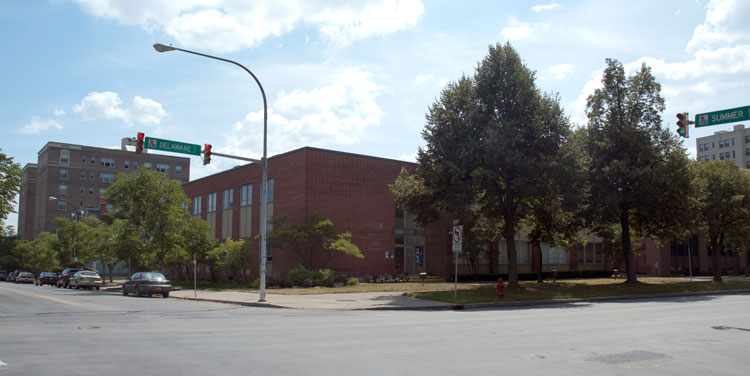 The corner of Delaware and Summer Streets in 2013
In 2009, Carl Montante, Sr. and the Uniland Development Co. donated the building at 741 Delaware to Catholic Charities.
One of Edward Michael's passions was architecture and the University of Buffalo.To learn more, see Part 2 here.