---
Herman T. Koerner. Image source: 1898 Men of New York (onlne)
Like so many Buffalonians in his era, Herman T. Koerner was not born in Buffalo. He was from Brooklyn where his father, Philip, worked as an engraver for the American Bank Note Company. Herman showed an aptitude for art and designing in childhood, winning prizes in the public schools. In 1870, he apprenticed to a lithograph company. Five years later, he came to Buffalo because the city had a growing reputation for fine quality lithography. He worked for two years at the Gies Company, a commercial lithography, engraving, printing, publishing, book binding company founded in 1870.
He changed employers and went to work for Cosack & Company, another lithographic and engraving company, founded in 1864. The company had a national reputation and secured work from all over the country. It was a large company, employing 300 and, after operating out of several locations in downtown Buffalo,, the company constructed a new plant in 1885 on Lake View Avenue. Its frontage was 70 feet on Lakeview Avenue; its depth 300 feet, two stories high in front and three stories high in the rear. Koerner's office overlooked the largest press-room in the United States at that time. A day's run was 200,000 sheets, much of it color work, for which the company was famous.
It was there that Herman Koerner moved quickly up the ladder of success. By 1881, Koerner was part owner with Herman Cosack and Charles Hayes. He had also married Georgia White, a well-to-do Buffalo woman. They had a son, Philip and lived on North Street at the corner of Irving Place.
From the 1894 Buffalo City Atlas
U.S. ram ship Katahdin, from a sample book.

Image source: private collection.

U.S. battleship Indiana, from a sample book.

Image source: private collection.
Upon the death of Herman Cosack, Koerner became the senior partner in Koerner & Hayes. Robert Heussler was the third partner. The above are examples of the color work done by Koerner & Hayes. Koerner became active in the National Lithographer's Association, serving the offices of secretary and treasurer for a decade.
Unfortunately, the company was overextended by 1900 and, when New England creditors refused to an extension, the company filed for bankruptcy. Its 350 employees were temporarily laid off until a buyer could be found. Two weeks later, it was purchased and renamed Hayes Lithographing Company, continuing to do general printing, engraving and lithographing. Henceforth, Herman Koerner would be described as "retired." He was 45.
In 1896, he had made national news by filing for divorce from his wife, Georgia, and spiriting their 16-year old son to England. His wife followed them and kidnapped his son, fleeing with him back to the U.S. They divorced that year; she died the next year.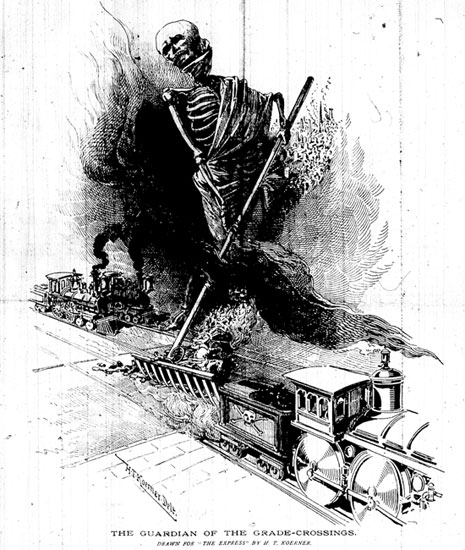 Buffalo Express cartoon
One of his interests was cartooning on subjects of local interest. At right is an example, drawn for the March 9, 1890 Buffalo Express newspaper about grade crossings, a topic which was discussed heatedly for years in local politics because of the deadly nature of at-grade railroad crossings in the city of Buffalo. The editors of this edition of the Express said, "With even more than his wonted facility, Mr. H.T. Koerner has drawn for the Express today a cartoon on the grade-crossing evil, so strong, so striking, so awfully truthful, that to comment in mere words would be as idle as the effort to gild refined gold. It there is any criticism to be made upon this grinning "Guardian of the Grade-crossings," it is, that the artist has been too realistic; has given us too much actual fact and too little imagination. Death and the flagmen together watch these hazardous intersections of traffic. The flagmen's best is a feeble preventative, and the press bears painful and repeated evidence of the tireless activity of the destroyer...This an an evil of great cities... It is not a pretty picture to look upon. It is not a pretty alliance to contemplate. It can no longer be tolerated. "
Second floor of The Buffalo History Museum; Koerner's "Sailing of the Griffon" in the far corner.

Close view of the "Sailing of the Griffin"
In addition to his engraving skills, Koerner painted in watercolors and, after retirement, in oil. An enduring example of his oil artwork is the "Sailing of the Griffon," a mural unveiled at the new Buffalo Historical Society building on December 15, 1904. It fills a 7- by 11-foot round-topped space in the wall on the second floor. The painting shows the Griffon, La Salle's pioneer ship on the Niagara River above Grand Island. It is intended to show the beginning of commerce on the Niagara frontier, in keeping with the stated historical themes for paintings to fill these spaces. The Historical Society praised the painting for its realistic figures "silhouetted against the brilliant saffron and crimson of an August sunset" and said that "the whole canvas glows with color."
During his retirement, Koerner enjoyed his Grand Island "gentlemen's farm," Seminole Lodge. He also devoted a good deal of time to his motor yacht, Seminole, a pasttime which he shared with E.R. Thomas, president of the E.R. Thomas Motor Car Company. For six years, he was president of the American Power Boat Association, a time when the sport was rapidly evolving.
He married again, to Margaret Bush of Buffalo. They spent winters in Florida and California.
When he died, Herman Koerner was described as a composer, having composed some 50 songs and orchestral works. For years, he was musical director and president of the Mendelssohn Club.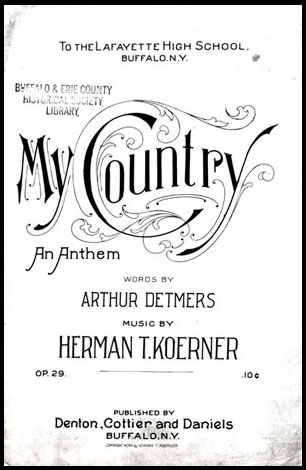 See full sheet music for this piece here
Credit: Buffalo History Museum Library
His greatest fame in music came in 1919, when he entered a competition by the Hearst newspapers for a national anthem that "could easily be sung by everybody." His entry was, "My Country," which was judged by a panel of renowned musical persons: John McCormack, Joseph Stransky, Irving Berlin, and John Philip Sousa. From the 20,000 entries, they selected 15 for voting by the general public. The overwhelming choice was Koerner's; he received $2,000 in prize money. Music Trades magazine said that it would "soon be heard in every nook and corner of our land."
Just before winning the above prize, Koerner had been charged with hoarding sugar and flour during World War I, and had been heavily fined for it.
Koerner also wrote books of fiction, the best known of which was, "Beleagured: A Story of the Uplands of Baden in the 17th century."
Koerner in later years.
Image source: Courier B&ECPL
In 1927, Herman T. Koerner died suddenly of a heart attack in his Park Lane apartments; he was 72.
The Buffalo Times said upon his death: "His great services to the development of the musical spirit in Buffalo, formed a memorable part of his lifework."
The Library of Congress has sheet music for additional Koerner compositions. Each below is linked
To view photos of his Grand Island home, look here (takes you out of this site.)