J.N. Adam and His Gifts to Buffalo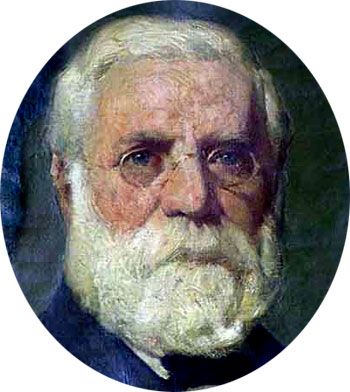 Mayoral Portrait of J. N. Adam, c. 1910. Image source: Cith Hall Portrait Collection (Buffalo Architecture & History)
James Noble Adam (1843-1912) is today the less-remembered brother of Robert Borthwick Adam of A.M.&A.'s reputation. But his achievements and gifts to the city of Buffalo are larger.
The Adam family was born in Peebles, Scotland, about twenty miles from Edinburgh. Father was a minister and, though J.N.'s formal education was slight, he was well-read as a result of his family's influence. At age 12, he apprenticed in a dry goods store in Edinburgh. In 1864, at age 21, he opened his own dry goods store. By then, his older brother, Robert Borthwick, had emigrated to the U.S. and was also working in the dry goods business in Boston. After moving to Buffalo and establishing a new store with partners Meldrum and White, he wrote to his brother J.N. and urged him to emigrate to the U.S. where business opportunities abounded.
In 1872, when he was 29, J.N. married Margaret Paterson in Edinburgh and emigrated to New Haven, Connecticut. He opened a dry goods store there and later took on a partner, William H. Hotchkiss. While visiting his brother in Buffalo, Robert advised J.N. that someone would open a dry goods store in the White building and he would rather be competing against his brother than someone else. So J.N. and his associate, Hotchkiss, opened a dry goods store in the White buildling on October 20, 1881.
J.N. Adam store complex, c. 1908. Image source: History of Buffalo, 1908, BEN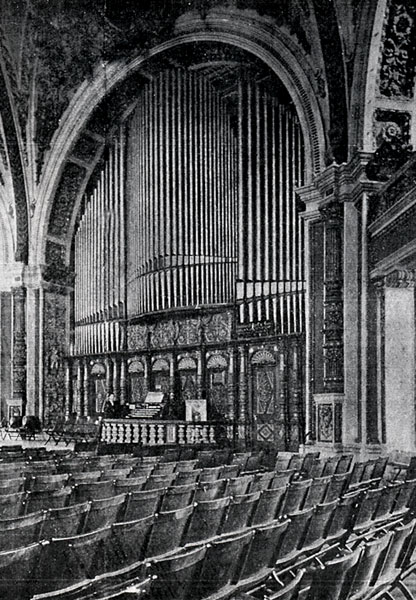 Emmons Howard organ installed in the Temple of Music, 1901. Image source: C.D. Arnold photo printed the Buffalo Express.
The reputation of J.N. Adam and Company was made early when customers appreciated the fair prices and honest dealings they received at his store. He impressed on his employees: "Never misrepresent anything; keep your promise no matter what the cost." People said, "Go to J.N.'s and get your money's worth."
The hallmark of J.N.'s business career was his contiuous expansion and improvement of his business. He changed locations, added to his store by leasing a building next door on Pearl St, and in 1892 he moved again, building a store on Main Street. By 1896, he had acquired the buildings on both the south and north sides of his building. J.N.'s stretched from 383-393 Main Street.
J.N. Adam valued family and maintained his connection to Scotland throughout his life. Each year, he returned to Scotland in the summer. On the trip in 1895, his wife Margaret Paterson, died abroad and was buried in her native Edinburgh. They had no children. After that, her sister lived in his home at 60 Oakland Place; his brother-in-law lived in Buffalo.
Following his wife's death, J.N. turned his attention to local politics and was elected to the Buffalo City Council in 1895. At that time, he sold his corporate stock to avoid the appearance of a conflict of interest.
After the Pan-American Exposition closed in November, 1901, J.N. saw an opportunity to give his adopted city an enduring cultural gift. The organ in the Temple of Music, built and installed by the Emmons Howard Co. of Westfield, Massachusetts, was available. He negotiated with the company, which had built the organ specifically for the Exposition structure at a cost of $18,000 ($507,197 in 2014 dollars), and purchased it at some discount.
The Buffalo newpapers were jubilant. In his message to Mayor Conrad Diehl on November 9, 1901, J.N. said : "I desire to and hereby present to the City the organ in the Temple of Music. If accepted, it is to be taken down and set up ready for use in any other place agreeable to the authorities."
The obvious location would be the Elmwood Convention Hall which at the time was host to all large public events in the city, including musical performances. The Buffalo Express said of the organ: "It has been played on by Frederic Archer and many of America's finest organists, all of whom agree that it is a fine instrument. It should prove the beginning of a movement that will culminate in a permanent and worthy Music Hall."

Plaque installed in the Elmwood Music Hall above the Adam organ. Image source: Buffalo Courier
The organ was 35 feet wide and, at its highest arch, 44 feet high. It was 35 feet deep. It featured 3,328 pipes and four manuals. Its weight was estimated at between 15 - 29 tons. As may be expected, the City Council immediately began squabbling over the price of installation in the Convention Hall, whether the Hall was environmentally appropriate for the instrument, and why the city was expected to accept the organ in the first place. One Alderman said, "Let's trade it in for a hand organ." Another questioned Adam's political motives in donating it. Antother suggested giving it to "some church."
Finally, after preparations had been completed in the Convention Hall, including foundation work to support the heavy instrument, the "Adam organ" as it was called was installed on the rear wall of the Elmwood Convention Hall opposite the stage. It made its first concert debut in October, 1902 and served the city's population for the next 36 years.

Adam in 1906, newly elected mayor of Buffalo.
Image source: Buffalo Courier and Facebook Friends of J.N.Adam.
In 1904, Adam retired from his store, but not from public life. His next gift to the city was his one term as mayor, 1906-1909. The city had endured years of corrupt Republican administrations when Adam was asked by the Democratic Party to run for mayor. He immediately said "yes" and campaigned on the motto, "A square deal for all," and "Honest vs. Graft." Aged 63, he won by 10,000 votes and immediately began work to remove favoritism from all city departments.
In 1906, the year he took office as mayor, he sold his share of stock in J.N. Adam Co. to United Dry Goods. As a millionaire and the third largest taxpayer in Buffalo, he enthusiastically embraced his mayoral role.
Admired by citizens and many business owners for his fairness, he was known for his sayings about government. "The trail of the political dollar should be as publicly known as the route of the Empire State Express." People said of him, "Go to J.N. and get a square deal."
Another of his sayings was: "Office holding is not an occupation but a service." He did not run for a second term. But he continued to visit City Hall and engage politicians with piercing questions about issues and proposals.
Google Earth image of the property purchased for the TB hospital in Perrysburg, NY.
In December, 1909, at the end of Adam's term as mayor, Buffalo was authorized by the State of New York to build, equip and run a hospital for tuberculosis patients. The City Council decided to locate it in tiny Perrysburg, south of the city. J.N. Adam paid $20,000 ($500,000 today) for the 293-acre site and donated it to the city. In later years, the hospital built at Perrysburg was named the J.N. Adam Memorial Hospital in his honor.
60 Oakland Place as it appeared in 1915, three years after Adam's death.
Image source:
Beautiful Homes of Buffalo
The tuberculosis hospital at Perrysburg was officially opened on November 11, 1912, but Adam was not there to see it. He had died of a stroke on February 12, while in Mayor Furhman's office urging that a contract for cleaning Delaware Avenue not be approved. He was 69 years old.
His funeral was held at his home, 60 Oakland Place, which he had purchased after his wife had died. The funeral was public. His body was transported to Scotland and buried beside his wife. In addition to his gifts, including his service as Buffalo's most honest mayor in decades, Adam's philanthropy had extended to Children's Hospital and Buffalo General Hospital. He was remembered as one who laughed heartily, loved his pipe and cigar, and enjoyed a good story or joke. But the Chamber of Commerce most eloquently and succinctly summarized J.N. Adam in its Live Wire magazine:
"With the passing beyond of former Mayor James Noble Adam, Buffalo loses one of its stalwart citizens whose activities during his long and honorable career have left an indelible imprint upon the city's welfare. His public life was always an open book. His character was an inspiration and incentive for good and noble deeds. Rugged and powerful, typifying the sterling ancestry from which he sprang, he stood four-square (to use one of his own expressions) to assail evil in all its forms. His life's creed was simple, but it required all that a man could possess of fortitude and delicacy to observe it as he did. He was honest. He was kind. He believed in spending less than he earned, and he strove, on the whole, to make others happier for his presence.
"He could renounce, if it was necessary for him to conform to his ideals, and his rigid adherence to his principles, it was said, cost him the governorship of his State. His acquaintances were legion and his friends were many, but he kept the latter without capitulation. Above all, he kept friends with himself, and on the same grim conditions.
"In short, like that other great Scotchman, Robert Louis Stevenson, he lived a life which was no mean task and his good deeds are writ in tablets of stone."