William Pryor Letchworth: Part 1

"Attempt great things and expect great things" (Rules of Conduct, William Pryor Letchworth, age 10)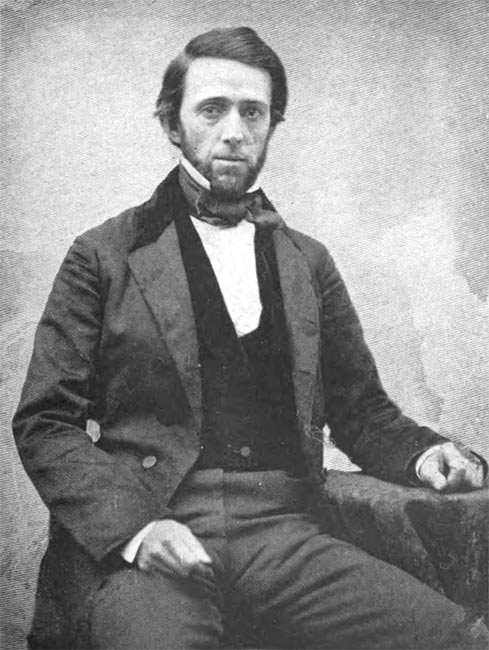 William Pryor Letchworth as a young man. Image source: Larned biography
Willliam Pryor Letchworth was born in 1823 in Brownville NY, the fourth of eight children and the second son. His Quaker family was close knit and intertwined through his 87 year lifespan.
At 1838, aged 15, he apprenticed to Hayden & Holmes, saddlery manufacturers and dealers in Auburn, NY as a clerk for $40 salary plus board per year. He remained six or seven years, learning every facet of the business until, as Mr. Hayden said, he was more like a partner than a clerk.
In the summer of 1845, he went to New York City and remained for three years, continuing his education in business while working. In 1848, the Buffalo firm of Pratt & Co. determined to add saddlery hardware to their business, and offered 25-year old William Letchworth a partnership in a new, separate venture that became known as Pratt & Letchworth.
William Letchworth devoted all of his time to his business through 1856. By that time, he had brought his two younger brothers and his older brother Josiah into the firm and had trained them in the day-to-day management. For the first time since age 15, he felt able to take time off to travel. He went to Europe for a year, treating it as an educational experience.
When he returned to Buffalo in 1857, he determined to take more leisure time and meet people outside his business.
View of Middle and Upper Falls c. 1850. Image source: Sketch of William Pryor Letchworth and Glen Iris
While looking for a location for a summer home, he was advised to look at the Genesee Valley and in 1857, Letchworth made it a point to take the Erie Railroad on his way home from New York City which passed over the gorge on the elevated trestle seen above. His friend and contemporary biographer, Josephus N. Larned, said, "From the bridge he saw how nature had produced here a perfect masterpiece of scenic composition, blending beauty with grandeur in transcendent accord, and how man had done what he could with his tools of destruction to wreck the noble piece of work. But he saw, too, that the vandalism of men had no power to do more than mar the surfaces of such a picture, and that nature would very lovingly renew them if she could be given the chance."
The Middle Falls c. 1860 Image source: Sketch of William Pryor Letchworth and Glen Iris
The falls of the Genesee River in the gorge were utilized as early as 1821 when the first sawmill was built. A farmer, Alvah Palmer built a log cabin on the terrace beside what was called the Portage Falls (now Middle Falls). He operated a mill and farmed nearby land, eventually enlarging the cabin to a two-story house. In 1832, Michael Smith purchased the land and house, intending to market the falls as a tourism destination. Unsuccessful in this, he tried to run it as a temperance tavern, Cataract House, but failed. In 1859, he readily agreed to sell his property to William Letchworth, who paid him $1,and paid his partner, Theodore Olcott, $7,000, settling Smith's debt.
Glen Iris in the 1860s after Letchworth's remodeling and landscaping.
Image source: Sketch of William Pryor Letchworth and Glen Iris
William Letchworth stayed at his new home for the first time on July 4, 1859. By November of that year, he first called the place "Glen Iris," after the Greek goddess of rainbows. He began immediately to remodel the house and clear stumps left from the decades of lumbering. He hired William Webster, student of Frederick Law Olmsted, to design the landscape around his home. He had a pool excavated beside the house and piped water from a spring in the hills nearby which sprayed as a fountain (see photo above), the overflow then draining over the cliff into the gorge. By the time he finished buying up small plots, he had accumulated 1,000 acres. With Webster's expertise, Letchworth proceeded to restore the forest landscape of the hills surrounding the gorge, planting 10,000 trees.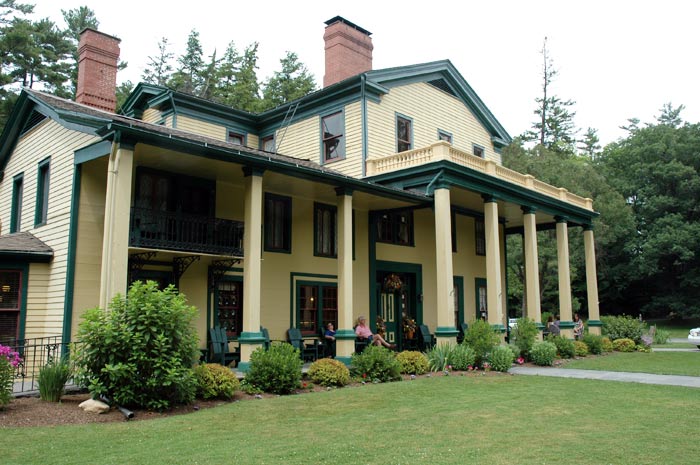 The Glen Iris Inn today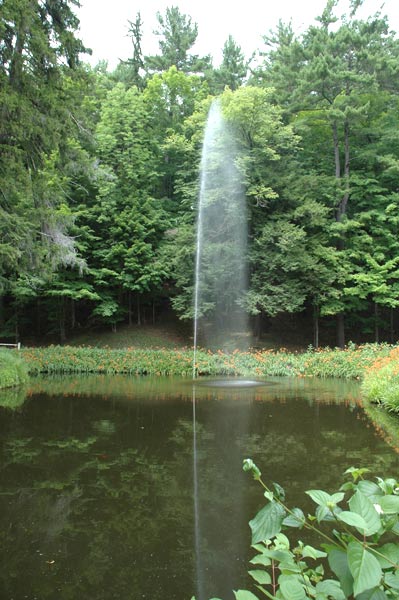 Letchworth's fountain and pool.
Sources for biographical information on William Pryor Letchworth included "The Life and Work of William Pryor Letchworth," by Josephus N. Larned, 1912 and "A Sketch of William Pryor Letchworth and Glen Iris," Sherman Peer, Genesee State Park Commission, 1956