Laube's Old Spain Restaurant: 660 Main
Unless otherwise noted, all images and menus below are from a private collection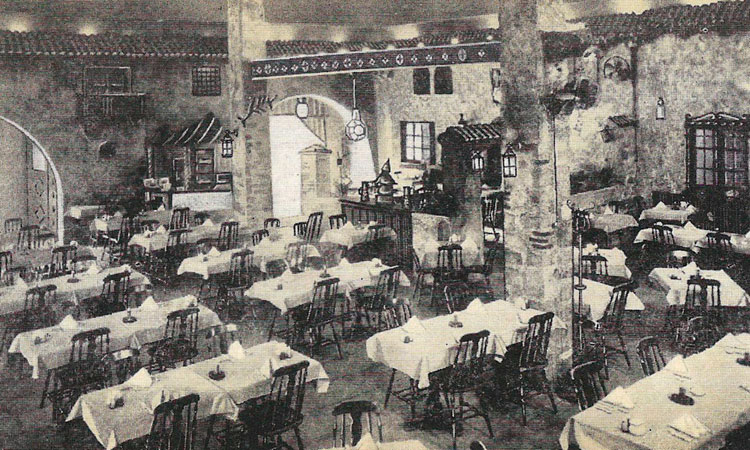 The block of Main Street between Tupper and Chippewa (aka the "600 block"), now the heart of Buffalo's theater district, was originally a neighborhood of stately mansions whose demolition began in the late 19th century for construction of business structures. Shea's Buffalo Theater opened in 1926; adjacent to its grand entrance was a more modest two-story commercial building built in 1924. The Huyler's Company (known for its chocolates), had a tea room at number 660 in this building. It vacated the location by 1927, leaving its Spanish decor.

1939 Menu (Click to view pages in pdf)
Two prominent restauranteurs, Charles A. Laube (Laube Family Restaurants Chain begun in 1907) and William Spooner Smith (Walford Chain), met at a convention and decided to jointly invest in a restaurant in Buffalo. They leased the space at 660 Main St., decided to retain the Spanish decor and name the restaurant "Laube's Old Spain." It opened in April, 1928 and was immediately popular.
In 1930, they expanded the space to 6,400 feet which could accomodate 326 patrons. And in 1936, they remodeled to create "a truly Spanish atmosphere." The restaurant was divided into a series of courtyards, its walls antiqued with stone, brick and mortar. Wrought iron was used on the walls and the mezzanine that overlooked the main floor. Arches were everywhere, some with stained glass insets. A bar was installed to capitalize on the new cocktail craze which featured an old monastery light brought to the U.S. by George Eastman; it was a gnome-like head on the end of a neck which held a lantern. The restaurant was air-conditioned.
And in 1930, Laube's Old Spain opened a restaurant in Rochester at 811 East Avenue.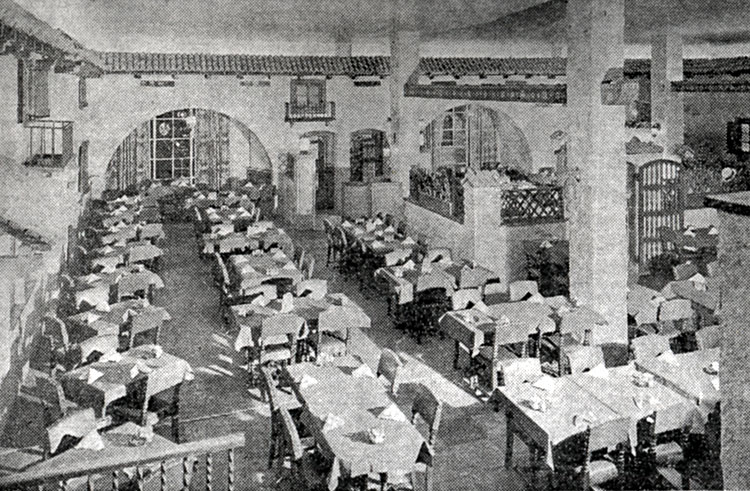 1936 "cocktail corner." Image source: Courier-Express
| | |
| --- | --- |
| 1940 Menu Rochester location (Click to view pages in pdf) | 1947 Menu (Click to view pages in pdf) |
The restaurant, located next door to Shea's, attracted famous performer as well as local diners. Over the years, the Marx Brothers, Milton Berle, Jackie Coogan, band leader Paul Whiteman, actress Mary Pickfored, Bob Hope, boxers Jack Dempsey and Primo Carnera stepped down the street from the theater to dine at Laube's Old Spain.
Night view of the 600 block of Main Street, showing Laube's Old Spain and the Shea's marquee in the 1950s.
Former Laube's site as Swiss Chalet in the 1980's. Image source: David Torke
Google snapshot.
In 1961, William Spooner Smith bought the restaurant from Charles Laube and marketed it as "Old Spain." He closed the restaurant in 1968, citing lease difficulties. After that, it became "Cambria's Old Spain" and then Swiss Chalet occupied the space. In 2013, it is the home of the Smith Theater, part of the Shea's Buffalo organization.