The Porter Norton Mansion
The Porter Norton home viewed from Gates Circle. Image source: Niagara Frontier magazine
The Porter Norton home was constructed on Gates Circle in the early 1900s of Pompeian brick with cream-colored pillars. The home faced both Gates Circle and Chapin Parkway. It was designed by Grosvenor Atterbury, a New York City architect
The Porter Norton home viewed from Chapin Parkway. Image source "Your Host Peter Gust"
The lot extended 440 feet along Chapin Parkway which permitted a large garden. Jane Burleigh, who had spent time in the home, wrote in the Buffalo Times in 1936: "The garden of this glamorous house had an avenue of poplars, planned so that its plumy trunks looked the limit of all things. It was only right that this plaisance, carpeted with green grass, fringed with stocks and wall-flowers, and sprinkled with bird-notes, should be separated by a mist of fragrance from the world without, with which it magic had nothing in common.
"The Nortons had been much in Italy, and they loved the charm of the Tuscan gardens bordered with iris and roses, where nightingales sang in the daphne trees, and the ilexes whispered ancient legends; one always thought of these things when one was privileged to linger in the garden, which delicately blew one a whiff of rosemary for remembrance."

Porter Norton (1853-1918)
Image source: Men of Buffalo

Jeanie Watson Norton (1855-1922)
Image source: Buffalo Times
Porter Norton, son of Charles D. Norton, prominent Buffalo attorney, was himself a successful corporate attorney representing the International Railway Company, the Bell Telephone Company of Buffalo, Frontier Electric Railroad, the Cranston Street Railway. He was described by Jane Burleigh as "gentle, thoughtful, cheerful and charming; a broad-shouldered figure of middle height, a broad forehead, smiling eyes and a sensitive mouth. He had a gay sense of humor and was in love with acting. He had been a vivid member of Col. Cornell's gifted troupe of amateurs." He married Jeanie Watson in 1879.
Jeanie Watson Norton was "a noted patroness of music, and no mean pianist herself...she was slim and willowy, with sparkling eyes and curly brown hair." The Nortons had two children, Porter Huntington Norton and Gertrude.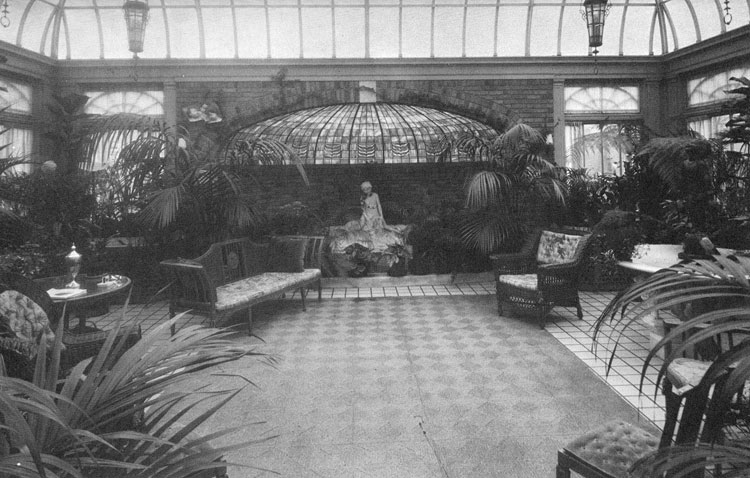 The Conservatory (installed by the subsequent owners). Image source: Your Host Peter Gust
Jane Burleigh described the house's interior as "stuff for dreams. There was a great hall, with a fountain that trickled a drowsy little tune; an oddly shaped library, lined to the ceiling with rare books; a distinctive little drawing-room, and a dining room that breathed welcome. The furniture was mostly from old Spanish palaces, and the portraits which Sohalla painted of the master and mistress of the house peered in inimitable fashion from gorgeous old Spanish frames...Everything in that shining house was done to perfection."
On December 27, 1906, the Nortons gave a spectacular party to announce the engagement of their son Porter to Gilbertine Coakley. It was an Elizabethan costume party. Here are the details.
The children married and made their own homes. Porter Norton died in 1918. Jeanie Watson Norton moved to 1275 Delaware and died in 1922. The home was for sale. It would have a long second life as a restaurant. Follow the link below to the next part of the story.