Corner of Washington and Broadway Streets over time.

The southwest corner of Broadway and Washington Streets, prior to 1910. Image source:private collection
(The site is directly across Broadway from the Grosvenor Library, now the Buffalo & Erie County Central Library.) This building was constructed in 1866-67 by The Buffalo Savings Bank. The bank moved into its new building at Main and Genesee Streets in 1901.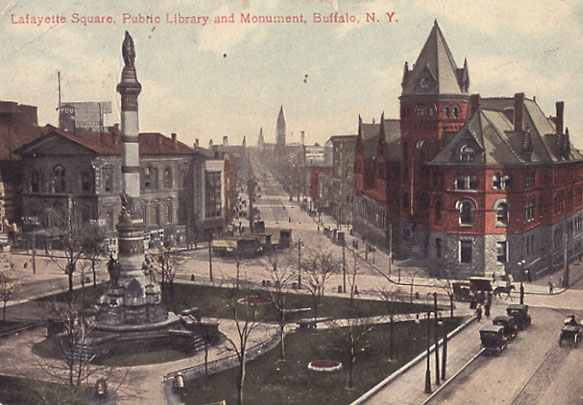 After 1910. Image source: private collection

(Left side of image) The old bank building became the Lyric Theatre and, in 1912, opened as the New Lyric Theatre after
being "entirely rebuilt from the shell of the previous Lyric Theatre." It featured vaudeville and moving pictures. (quotation credit: Ranjit Sandhu, "Buffalo Theatres Prior to 1930" manuscript at the Buffalo & Erie County Public Library).
The building was demolished in 1920 to make way for construction of a new theater.