Huron, Genesee, and Washington Streets:
The Electric Tower and Its Antecedents
Painting of the Andrews family in front of their mansion, c 1833. Image source: Picture Book of Earlier Buffalo
M.A. Andrews, a Connecticut native trained as a lawyer, moved to Buffalo around 1820. He purchased lots around Genesee and Huron streets totalling 79 acres and constructed a large mansion on his lots bounded by Genesee, Washington and Huron streets. Facing Washington Street, but set back from all thoroughfares, his wood home was painted white, surrounded by a flower garden and picket fences. Andrews served as mayor of Buffalo from 1833-1834 when a cholera epidemic swept the frontier city, taking his daughter, wife and in August, Major Andre Andrews himself. His surviving family left Buffalo permanently.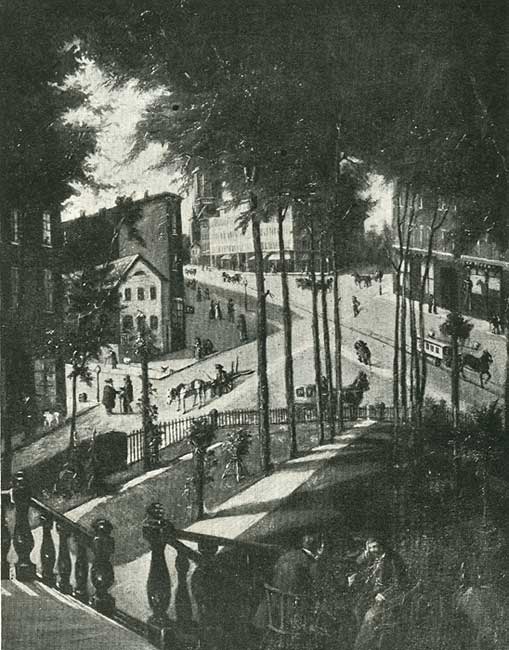 Image source: Picture Book of Earlier Buffalo
By 1851, Charles (a.k.a.Carl) Gruener, a portrait painter, had moved into the old Andrews home with his wife, Frances, and their three daughters. They developed and expanded their home into Gruener's Garden, a popular resort. Gruener painted the above scene around 1864, looking from the house toward the near intersection of Huron, Washington, and Genesee streets; in the top center of the painting at the corner of Genesee and Main is the Genesee House hotel. A modern view of this perspective is here.
1894 Buffalo City atlas, Gruener's highlighted in green at 535 Washington Street
Gruener's Hotel as last rebuilt. Image source: Picture Book of Earlier Buffalo
1909 demolition. Image source: Picture Book of Earlier Buffalo
In 1906, widowed Mrs. Frances Gruener died and three years later the hotel was demolished. The land had been purchased by the Buffalo General Electric Company and Cataract Power & Conduit Company for a new headquarters building. Its construction would be the first incursion of a major commercial structure in that old residential neighborhood.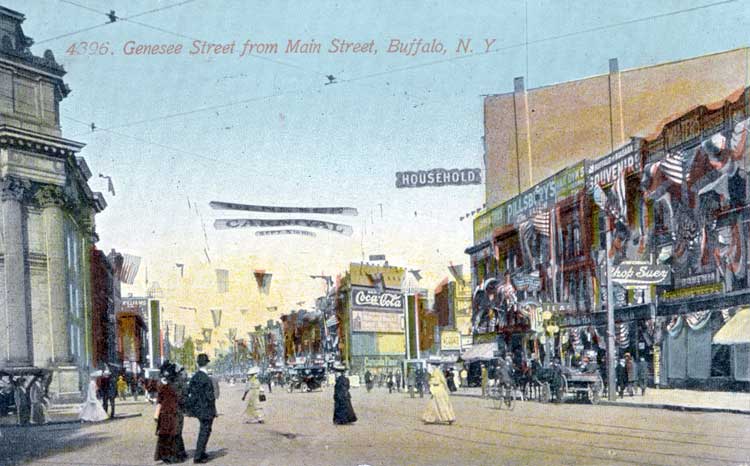 The last view of the Main-Huron-Washington intersection before the Electric Building was constructed. Image source: private collection.

Detail of the upper stories of the Electric Building
Image source: TBHM

Drawing of the Pan-American Electric Tower. Zoom to see details.
| | |
| --- | --- |
| c. 1915, original structure. TBHM | 1950s. Image source: private collection |
The original Beaux Arts style building was an octagonal tower of fourteen stories with a three-story cupola and a four-story wing off the Huron Street side. It was designed by James Johnson of the Buffalo firm, Esenwein & Johnson. In 1924, a four-story wing was added on the Genesee Street side, and in 1926, both wings were expanded from four to seven stories. The additions were designed by E.B. Green & Sons.
| | | |
| --- | --- | --- |
| c. 1920 BECHS | c. 1960 Image source: private collection | 2010 |
The building was designed to advertise electricity by its illumination, first revealed to crowds on May 25, 1912. With the exception of the energy crisis in the 1970s, the building has been illuminated.
In 2004, Iskalo Development purchased the building from Niagara Mohawk, renaming it the Electric Tower. The interior has been restored; it is currently occupied by businesses.