Influenza on the Homefront (Part 2)
---
October 1918
On October 1, The Buffalo Express reported "about 50 cases" of influenza in the city. The health department regarded this as a "good record for Buffalo," noting that the weather had "been favorable to the development of this form of sickness for several weeks."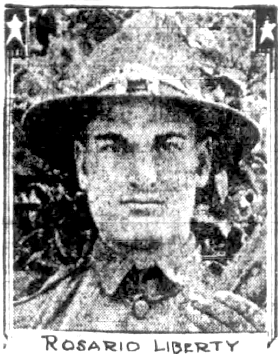 Meanwhile, sons of Western New Yorkers continued to die of wounds in battle or influenza. Rosario Liberty, stationed at Camp Dix, died in Buffalo while on a brief furlough visiting friends at 56
Efner Street. His parents were still liviing in Italy.
Frank Kohl died at sea aboard his Navy ship; he was 26. While on leave visiting his father in Buffalo three weeks prior, he was in good health and said he like life in the U.S. Navy. Carl A. Pfallart, also in the Navy, died at the same time in Massachusetts.
The largest obituary in the Buffalo papers at this time was that of a West Side Rowing Club star. George Martin, 20, died from influenza at the Great Lakes Training facility.
The first cancellations were announced October 3, when the National League for Women's Service said that the "dances and other social affairs" would be discontinued until after the "epidemic has spent itself." Three Lockport soldiers, Ralph Pomeroy, Silas McCollum, and Lester Horton, died at separate training camps in the U.S. An Attica sailor died at the Great Lakes facility. Individual funerals were held for soldiers Monsour J Shemalie, William D. Woodcock, and Hector Treble that week. Dr. Gram, Acting Health Commissioner, said that to date the bodies of 33 area soldiers had been received in Buffalo for burial. He also said on October 4 that he thought October would show a "considerable diminution in the severe or virulent type of influenza or grippe." He would be proven wrong about that.
On October 6, Dr. Gram announced that the city, with a tenfold increase in the number of influenza cases in just five days, would be considering a massive closure of public meeting places soon.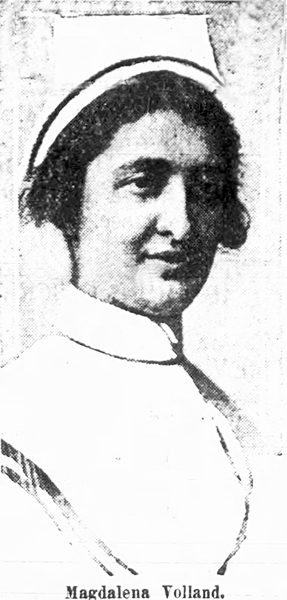 Nationally, the news was grim. From the Buffalo Courier, October 5 story: "Spanish infuenza increased more rapidly during the twenty-four hours eneding today noon than in any similar period since the disease became epidemic. Reports to the offices of the surgeon general of the army showed 17,303 new cases in army camps."
Fort Niagara reported on October 5 that seven soldiers died during the week. Newspapers continued to report the deaths of soldiers, often grouping together the deaths of soldiers from the Muese-Argonne battles with those from influenza.
And now the deaths of medical professionals serving abroad began to reach Buffalo. Magdalena Volland, 28, had been in France since December 1917 serving with Base Hospital 23, the Buffalo unit in which so many Buffalo doctors and nurses were serving. And nurse Mary Healy, stationed at Camp Upton and preparing to go abroad in October, died of influenza. Before the month was out, Base Hospital 23 had lost four men: Dr. Lorenzo Burrows, opthamologist and adjutant of the hospital; Robert J Ranney, cook; Raymond Strite and Fred Tubbs, privates.
On October 6, Buffalo papers reported the first public mention of a possible closure of all public places in Buffalo..
On October 8, however, the uncertainty of local officials was made clear when The Express reported that, for the present, places of public assemblage including schools, theaters, saloons would not be closed. There were 300 cases of influenza reported, up from 88 reported three days earlier.
The next day, local doctors made plain their belief that every place where the public could congregate should be closed immediately. One doctor said, "The people are so careless that the only way to manage this thing is to take it out of their hands."
That would happen on October 10. History would regard this as a lifesaving action for the city.
Here is the complete public notification to Buffalo citizens as published in the newpapers on October 11, 1918. (pdf)
Saloon owners at first protested, then agreed to cooperate, and then a number violated the regulations, an action that brought threats of closure by city officials.
The next day the city became consumed by protective masks, largely as a result of a news report by the city health department.
Within days, reports of barbers, police, hotel staff, tellers, employees at the National Biscuit Company in Niagara Falls were wearing them while working.
A local company was manufacturing masks at the rate of 20,000 a day. This was likely the Jeffrey Fell Company, a medical manufacturing company.
Gauze masks were the hot topic in the papers.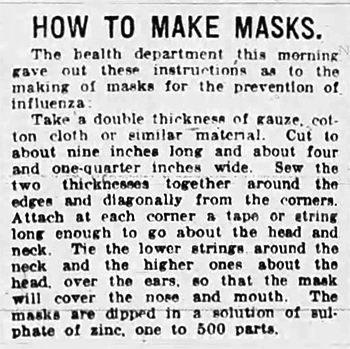 The Delaware Avenue Baptist Church held an all-day meeting to manufacture influenza masks.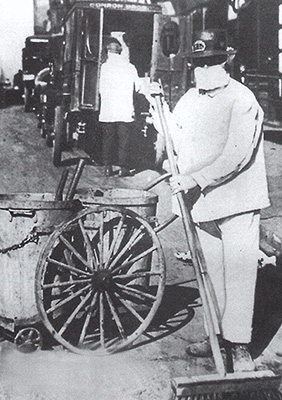 The Department of Health issued masks to city employees. A street sweeper is shown wearing one while at work.
An order to bury deceased persons within 24 hours created numerous problems for the local undertaking industry. Local casket manufacturers said they would not be able to keep up with demand because their daily output was around 30 caskets. Dr. Gram countered by accusing the casket businesses of being "trusts" (i.e. monopolies) and said that if need be, he would instruct the bureau of sanitation to construct presentable caskets which he would then sell to families needing them at cost.
Dr. Gram was proving very capable of managing the new regulations and restrictions. He warned "nostrum peddlers" that he would arrest any selling quack medicines that promised to prevent or cure influenza. He further solved the continuing problem of saloon keepers violating closure orders by having the Wholesale and Retail Liquor Dealers' association cooperate by ceasing delivery to local bars.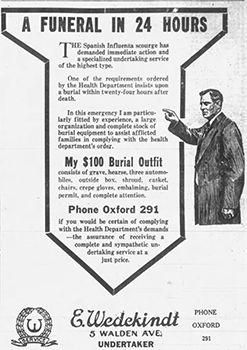 Local undertakers paid for newspaper advertisements to promote their services to local families.Those services would be needed as the death toll began to climb.