---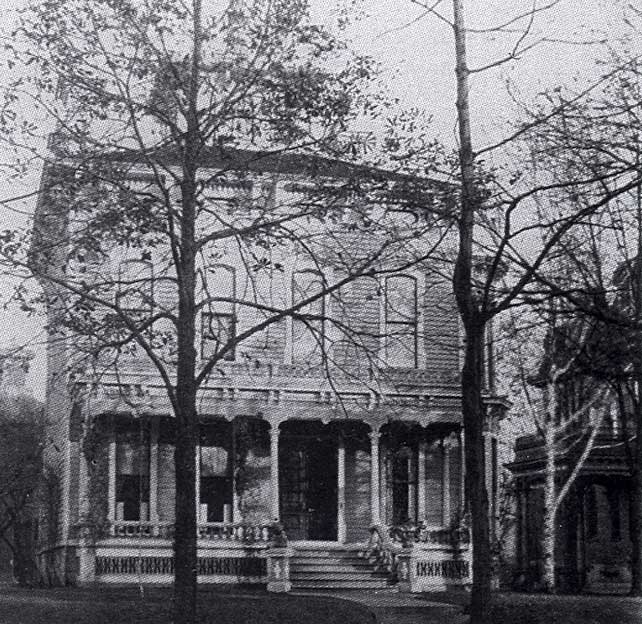 The Forbush House, c. 1889s. Image source: TBHM
The first structure built at 805 Delaware was a residence in the1860s. Its occupant was Charles Forbush, a shoe manufacturer. In the 1870s, Jonathan C. Forbush lived there and continued until his death in 1901. At that time, the property, a prime Delaware Avenue location, was purchased by Spencer Kellogg who demolished the home and engaged Green & Wicks to design a magnificent Georgian-style mansion for himself, his wife Jane, and four of their seven children. He was 52 years old; his wife 50. Their home would cost $500,000 to construct ($14,359,807 in 2015 dollars).
Spencer Kellogg, 1900. Image source: Men of Buffalo
By the time he hired the architects to design the Delaware Avenue home, Spencer Kellogg had made his fortune in linseed and other oils. He took an active role in the decoration and furnishing of this home. The architects traveled to Europe accompanied by plaster workers and interior decorators for ideas from French and Italian architecture and art.
Kellogg collected art from around the world and required an art gallery be desgined for the new home, complete with lighting that would highlight the paintings. He personally chose rare veined marble consoles for his music room, which was decorated in ivory and gold.
One entered the home through massive wrought iron doors. The first floor reception hall featured a marble fireplace with ornate Italian carving, and crimson hangings, upholstery, and velvet carpet.The basement contained the kitchen, a ballroom and a theater.
On one side of the entry hall was the drawing room with French blue damask on the walls, a large cream-colored fireplace over which was mounted a gold-framed arched mirror. Beyond this was the library.
On the other side of the first floor was the music room, which could seat 100 persons without crowding. The dining room was behind this.
An elevator carried family or guests up to large bedrooms, five on the second floor and three on the third, with marble bathrooms and gold-plated fixtures, even in the showers. On the third floor was a billiard room finished in dark walnut, a study, a lounge with a skylight, and a roof-garden.
The rear of the house had a loggia with a dark walnut ceiling decorated with bright Italian blue medallions overlooking the garden.
The Kelloggs entertained in these large spaces for the next seventeen years until Spencer Kellogg died in 1922. The Kellogg children were established in their own homes elsewhere, which left Jane Kellogg alone at 805 Delaware.
Kellogg home, 1927. Image source: Town Tidings Magazine
Buffalo club women, who had formed the Buffalo City Federation of Women's Clubs in 1905 with 25 charter clubs, began looking for a suitable clubhouse in 1919. Eventually, a new club was created, the Town Club in 1926, to oversee the purchase and operation of a clubhouse. Its mission was service and, in 1927, the mansion at 805 Delaware became the Town Club house. There were now nearly 90 clubs in the Federation, twenty of which had outgrown member homes and were meeting in hotels.
Mrs. Kellogg left nearly all of the furnishings in place, including the crimson velvet carpet made in Austria specifically for the house, immense mahogany buffets, a gold clock on the dining room fireplace mantel, old gold rug, and huge mahogany dining table. Very little modification was needed to turn a mansion into an elegant club house, ready to host meetings, events, dinners, and guests.
The club offered dinner for Federation members and guests as well as dormitory rooms on the top floor for out-of-town guests.The basement kitchen came complete with a hooded range, ice boxes; upstairs pantries contained every convenience.
An advisor to the purchase said the house could not be replicated except for twice its original construction cost.
Kellogg stables behind the home which could hold 18 automobiles, 1905. Image source: Architecture, June 1905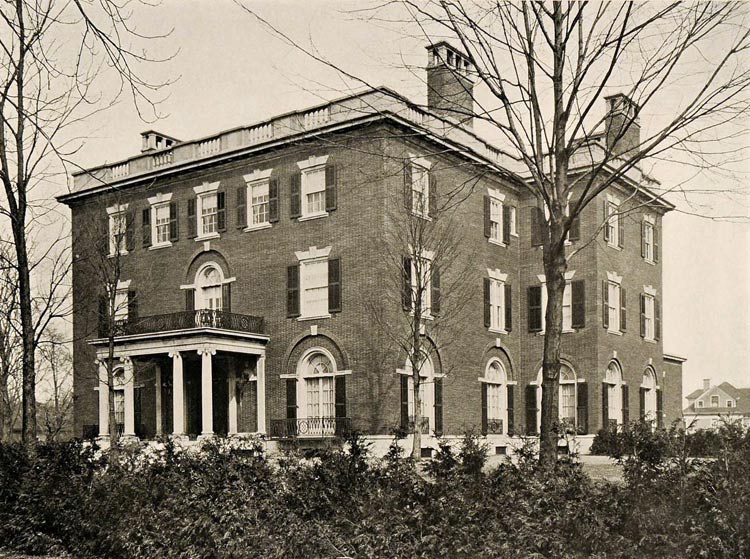 View of Kellogg home, 1905, from Delaware Avenue. Image source: Architecture, June 1905
The Town Club occupied 805 Delaware for 35 years, twice the length of time the mansion had been used as a home. Members presented plays in the basement theater, held events in the great music room. During World War II, several Red Cross classes were held in the club, and its members were active in bond drives. The Club also adopted a war orphan, supported by club members until he was grown. In 1952, there were 400 members. As Courier-Express columnist Katherine Smith concluded in her article of that year, "In the home Spencer Kellogg built for his familiy, thousands of local women have found inspiration and an opportunity for self-expression."
In 1962, months after a disastrous fire destroyed Temple Beth Zion at 599 Delaware, the congregation purchased 805 Delaware and combined it with two other adjacent lots for a new temple and school. The congregation used the building while planning for the new campus was underway. It was then demolished for construction of the new Temple Beth Zion.
To replace its clubhouse, the Town Club purchased another Delaware Avenue home at 1255 Delaware in 1962. Four years later, the Town Club, now reduced to 50 members, sold its clubhouse to the Visiting Nursing Association.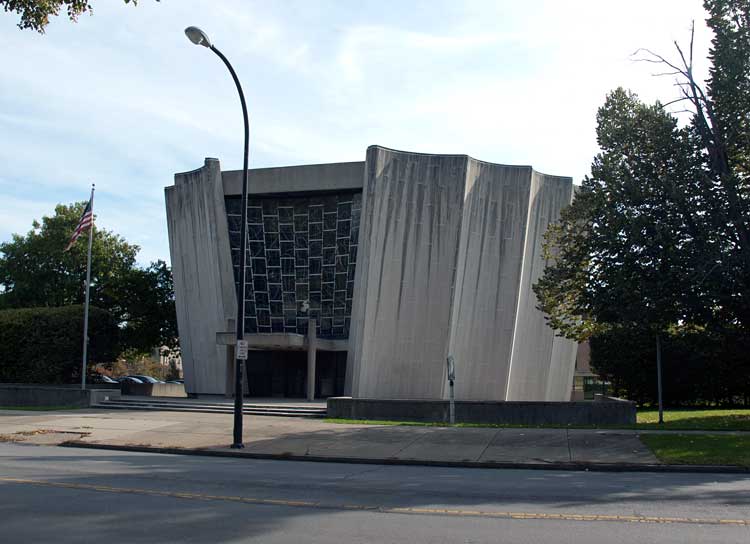 Temple Beth Zion, 2012
In 1967, the new Temple Beth Zion opened at 805 Delaware, its distinctive design establishing it as an instant classic on the Buffalo landscape. For details on the building itself, look here.
Research materials for this pictorial included "Buffalo's Delaware Avenue: Mansions and Families" by Edward T. Dunn.