The Many Lives of 343 Elmwood: The Philip Schaefer House
---

Philip G. Schaefer, 1908.
Image source: BEN History of Buffalo
The man who built his home at 343 Elmwood was Philip G. Schaefer, born in Buffalo in 1862 to Alois Schaefer, who had emigrated from Wurtemburg, Germany in 1836. Alois Schaefer established the Schaefer Brewery in Buffalo and his son, Philip G, after graduating from Cansius College and Bryant & Stratton, became active in the family business. His father retired from the business in 1885, when Philip and others formed the Lake View Brewing Company. The new company moved from the old plant at Main and North Streets to a much larger facility they built at Porter and Lake View Avenue on Buffalo's West Side. (see details of the brewery here). Also in 1885, he married fellow Buffalonian Hattie Ritt and the next year their only child, Emma P., was born.
When the new company was formed, Philip G. Schaefer was named General Manager, a title he would hold until being officially named president in 1906.
Philip G. Schaefer proved a capable businessman. By 1908, the Lake View Brewing Company was producing 50,000 barrels of "high-grade" beer, ale, and porter annually.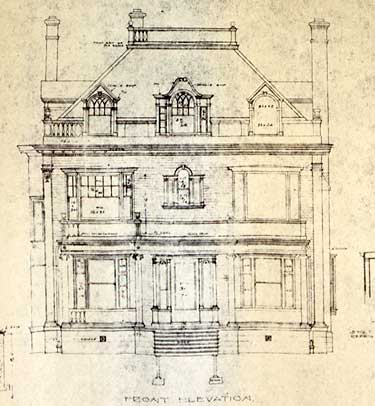 E.B. Green architectural plan. Image credit: Cohen & Lombardo, P.C
The Schaefer family engaged Buffalo architect E.B. Green (Green & Wicks) to design a 2,555 square foot home, completed in 1899. Their new home was in a neighborhood of new homes along Elmwood Avenue. In 1899 dollars, the cost to the Schaefers was $11,781.50; in 2012 dollars, the cost would be $320,000. The Buffalo firm of E.M. Hager performed the general construction work in addition to the fine interior woodwork that remains intact in 2013. Buffalo Stained Glass Co. installed the leaded glass.
There was a stable and carriage building in the rear of the property included in the original construction.
Drawing from E.B. Green records. Image source: TBHM
Drawing from E.B. Green records. Image source: TBHM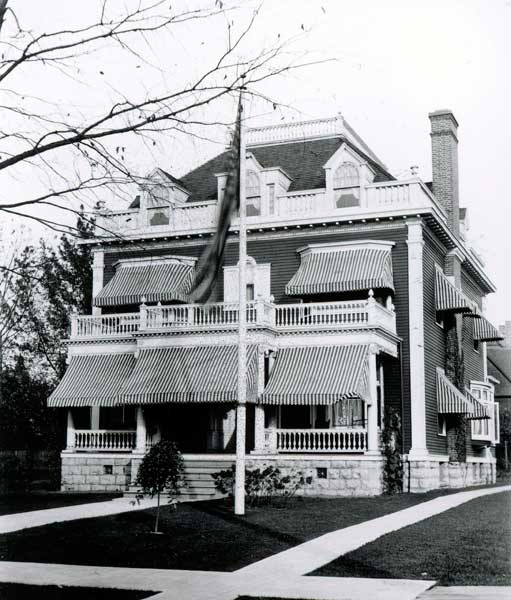 343 Elmwood, c 1900. Image source: TBHM
343 Elmwood, 1915. Image source:
Beautiful Homes of Buffalo

Philip G. Schaefer.
Image source: BECPL
Dedicated to his work at Lake View Brewery, Philip G. Schaefer's only hobbies were yachting and motor boating at the Launch Club. He had a summer home on Grand Island. His civic involvement included serving on the board of the Buffalo State Hospital; he was a longtime supporter of the local and state Democratic Party.
He died at 343 Elmwood at age 70 from heart disease. His widow continued to reside in the home until 1939, after which time it became a boarding house. Beginning in 1948, it became the home of Paul J.Speyser.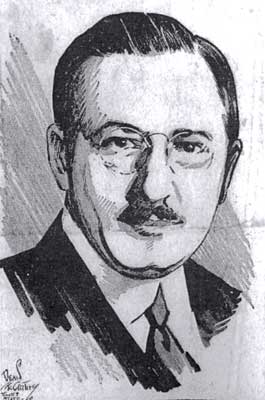 Paul J. Speyser. Image source: BECPL
Paul J. Speyser was born in Alsace, in eastern France, in 1886 and, after graduating with honors from university there, he emigrated to the United States in 1907. Beginning in 1926, he was as an executive with the August Feine & Sons Co, a structural steel firm. He was an active member in the Alliance de Francaise de Buffalo, founded in 1903 by a group of Buffalo women who wanted to maintain their knowledge of the French language and literature; this group included Mrs. John G. Milburn. In 1919, to celebrate the return of Alsace to France after World War I, some members of the Alliance, including Paul Speyser and his wife, Caroline, renamed the organization Les Amis de la France. They were very active in supporting orphans from the Great War and continued their support in World War II.
Paul J. Speyser served as president of the organization, so it was no surprise that he was named French Consul in 1926 following the retirement of Pascal Franchot. His office was on the 17th floor of the Rand Building. He and his wife and son, Paul Jr., lived on Mortimer Street until around 1948, when they moved to 343 Elmwood. He told the Buffalo Times, "The French are a people to whom home life means everything. If I have a hobby, it is being in the what you call 'old family home.'" He admitted that being French Consul was not a big job in Buffalo, with very few French citizens. Most of his business came from Syrian and Lebanese citizens, whose countries at that time were, as he said, "subjects" of France.
In 1936, Speyser was named a Chevalier de la Legion d'Honneur by French President Le Brun. He was awarded this Legion of Honor medal in recognition of his work to aid French nationals and his work for Les Amis de la France. (Other Buffalonians who had received this award for their work during World War I included: Dr. Francis E. Fronczak, Julian Park, William J. Donovan, and Dr. Albert Raimon). He retired as president of the organization he helped build in 1939, having served in various offices for 20 years.
Paul J. Speyser remained French Consul for 33 years, until his death in 1959 at age 73. By that time, his office was in his home at 343 Elmwood. He also had utilized the residence as a funeral home briefly. His wife, an early women's rights supporter, died in 1972 at age 89.
In 1963, the Leonard H. Gaetz funeral home moved from 783 Ellicott Street to 343 Elmwood and would continue there until Mr. Gaetz retired in 1980.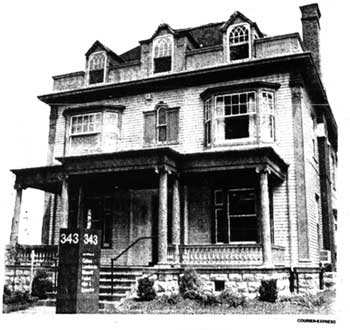 343 Elmwood in 1981. Image source: BECPL
In 1980, the law firm of Cohen & Lombardo was learning that it would have to relocate for the second time in five years because construction for the Hyatt Hotel required that the Genesee Building be vacated of its business clients. At this time the partners determined to leave downtown Buffalo and relocate in the city neighborhood along Elmwood Avenue. They purchased 343 Elmwood in January, 1981 and had to convert the building on an accelerated schedule because they had to leave the Genesee Building by late May.
As can be seen in the 2013 slide show below, the E.M. Hager woodwork that included mahogany paneling in the "sitting" room was matched by mahogany bookshelves to turn it into a library/conference room; the curly birch used in the former dining room was matched when shelves were installed to transform it into a conference room. After enlarging the house at the rear, the total office space for the firm in 1981 was 7,000 square feet. Cohen & Lombardo has since purchased the house next door and constructed a walkway connecting the second floors in a sympathetic way so as to preserve the appearance of the E.B. Green Schaefer House.
Grateful thanks to Maryann Saccomando Freedman and the late Richard Blewett, partners at Cohen & Lombardo, P.C., for permission to photograph the interior of 343 Elmwood and for their assistance in this pictorial.
Note about Les Amis de la France: the organization is alive and well in Buffalo and is now called, Alliance Francaise de Buffalo..